In production and life, the conveyor belt is a great improvement to our work efficiency, but the conveyor belt also has a life exhausted day. In fact, the main reason for the replacement of the conveyor belt is wear. The wear patterns of the conveyor belt generally exist in the following 3 categories:
  The wear of the vulcanized joint of the conveyor belt is usually due to the fact that the material of the conveyor belt is higher than that of the vulcanized joint or the quality of the hot vulcanization, resulting in partial wear of the vulcanized joint adhesive layer, exposing the steel wire core or nylon core, posing a serious threat to the strength of the vulcanized joint between the conveyor belts.
  The conveyor belt is worn at the apron. Due to the improper adjustment of the apron plate or the poor design of the guide apron, the apron will wear the conveyor belt in operation, causing serious wear on the two sides of the conveyor belt. The direction of the whole belt will be exposed in the direction of the steel cord or nylon core. Once the polyester is lifted, it will easily be wound onto the idler, causing the steel strip to be shredded or taped. Tear.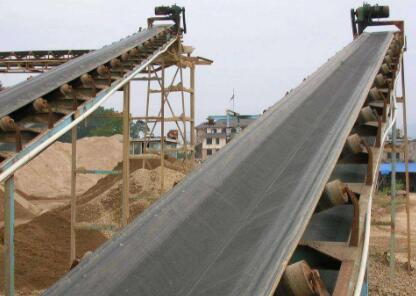 The wear of the middle part of the conveyor belt in Qingdao is caused by blanking impact. Because the blanking point of the funnel is relatively fixed, the wear of the conveyer belt under impact is aggravated, causing the local wear of the conveyor belt along the direction of operation, and it also causes the core of the steel cord to be broken or the conveyor belt torn. For nylon rubber belt, the strength of the middle part decreases due to the existence of 3 supporting rollers. ~ 4. Because of the forward inclination angle, under the action of the neutral force of the supporting roller, the dangerous phenomenon of "overlapping tape" will appear in the operation of the belt.
  In fact, we usually need to use conveyor belts to transport large quantities of raw materials. If such facilities can not carry these weights, it will naturally directly affect the progress of our work, and at the same time, it will be a great damage to the conveyor belt itself. So when choosing the conveyor belt, we should pay attention to its material and later construction technology, so as to better ensure that the products we choose have more advantages in durability.